WEAI Tibetan Digitization Project
On July 1, 2017, the Weatherhead East Asian Institute granted to the C.V. Starr East Asian Library $20,000 to support a Tibetan Studies Special Collections digitization project with the aim "to digitize photographs, documents, correspondence, and unique manuscripts in our Special Collections, with an emphasis on English-language, highly visual, and other materials with wider potential for student research and classroom instruction."  
The project, which was completed in August 2020, digitally preserved 71 rare books and periodicals, 85 audio and moving-image recordings, and more than 800 archival photos, documents and printed ephemera which were heretofore unavailable online. Many of the physical items were brittle, had bleeding or fading ink, or were otherwise at risk of obsolescence. The project captured a total of nearly 9000 images, double the original target.
Columbia affiliates may log-in to view (or listen to) the digital objects in full. Metadata and thumbnail images are also available open-access, and can be easily searched in the CUL Digital Library Collections portal.
This three-year project drew not only on the talents of more than a dozen library staff at the C.V. Starr East Asian Library and the Butler Library, but also on the contributions of two EALAC PhD candidates: Tenzin Yewong Dongchung and Cameron Foltz, who provided detailed descriptions for hundreds of documents, posters, and photographs, including many Tibetan and Chinese materials. Chukyi Kyaping (a SOAS graduate student specializing in museum studies) also worked at the Starr Library in 2018 to help input and standardize metadata elements for ingest into the digital repository.
Relevant Links
Statistics
71    books & periodicals
85    audio and moving-image materials
808  archival photos, documents, and ephemera (many with multiple pages)
Total number of digital images preserved by the project: 9000 (approximate)
Project Photos
Image Carousel with 2 slides
A carousel is a rotating set of images. Use the previous and next buttons to change the displayed slide
Slide 1: Chris Antkowiak prepares to photograph decaying nitrate negatives using a light box. Due to the risk of combustion, the negatives were stored in a refrigerator and individually removed by the photographer just prior to imaging.

Slide 2: The varying degrees of decay required setting the exposure times for each image and, as demonstrated here, further adjustments when converting the negatives into positive images for long-term preservation and online display.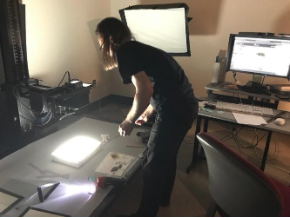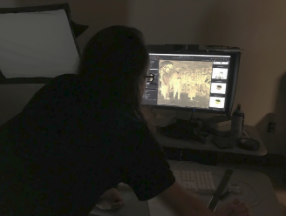 Previous
Next